Welcome to our site. We are located right outside of Taft, Texas off the Bayside Highway 136. We specialize in custom piecing and long arm quilting. We are also receiving brand new fabric every day, it's like Christmas. We have experts here that can help you find exactly what you are looking for. Stop in and visit today!!
Well.....I can't believe it is already August which means back to school!! Summer flew by. So with that in mind we are taking you back to the basics with this nifty sewing box of goodies:))) When you bring a quilt top in this is our gift to you. ($30.00 value)

---
---
---
We are started the key chain promotion!! If you have not gotten one come by and see us. July's winner is Debbie Bennet, she won a $25.00 gift certificate to A Touch of Patience Quilting. Congratulations Debbie:)))
Next class is August 18, 2018, we will be making the Binding tool star quilt top. The class is $25.00, pattern is $3.00 and the binding tool is $7.00. Class includes lunch and lots of fun. Call or come by to sign up 361-528-4819.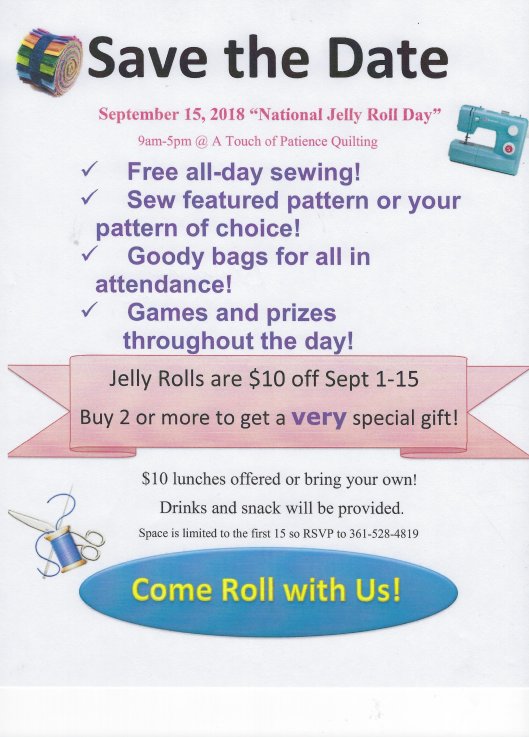 October 20, 2018 we will be having the XBlock Ruler Class with certified teacher and owner of Quilt Queen Designs Doris Rice from McQueeney, Texas.
December 1, 2018 brand new shop is opening, so come for the Grand Opening!!